Header video
Two Girls and a Beehive
In-words' first Zoom event took place on Tuesday, October 13 at 7.30. Rosie Jackson and Graham Burchell read from Two Girls and a Beehive, their joint collection of poems inspired by the lives and works of Stanley Spencer and his first wife, Hilda Carline. It was much more than a reading. Paintings and photographs illustrated the context of each poem, as details of the complex relationship Spencer had with both his wives (he divorced Hilda to marry Patricia Preece, but remained – or became again – very attached to, almost obsessed with Hilda) was explained. As was his much easier relationship with Cookham, where he was born and lived for most of his life.
Each poet had found, in the writing, a preference for focusing on particular aspects of Spencer's life and a distinct style. Graham's poems are ekphrastic, with a more obvious connection between verses and images, while Rosie's start from the image and expand into a more emotional universe.
Here is a taste of Two Girls and a Beehive. I'm sure you will enjoy it. The title poem, with the accompanying early painting by Stanley Spencer – also the book cover – is by Graham. The other is Lady in Green by Rosie, accompanied here by the portrait Hilda painted of her rival, Patricia Preece, the woman for whom Stanley left her. The book was published in April 2020 by Two Rivers Press, after the collection won first prize at the Stanley Spencer Collection Competition in 2017. It is available to order from rosie@rosiejackson.org.uk as well as from from tworiverspress.com and Amazon. It's a real treat.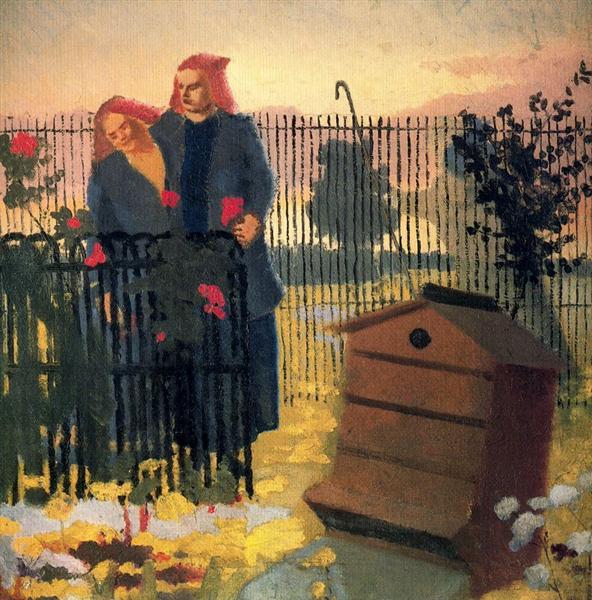 Two Girls and a Beehive
after 'Two Girls and a Beehive', 1910
He has these butcher's daughters
(both ginger-haired as honeycomb and sunset),
smelling roses, just that, as if oblivious
to the hovering of the holy ghost behind
and that box of whispering bees.
He loved them both, those Wooster girls,
dressed them in shades of privet green,
gave them an evening glow and posed them
on puddles of light; the last gold lily-pads
of the day.
    At times they would sit, Dot
and Emmie, on his garden wall, chatter
and giggle, backs against black railings,
and hedge of that same viridian hue.
Perhaps he felt himself to be
supernatural, as he watched
from the nursery window, thinking,
I can look and linger on you my two loves,
but you cannot see me.
But what of the bees, the honey-makers
in their Mill Lane hive? He paints them at rest,
contained, still as evening, a potential
for both sweetness and pain.
Just that.
---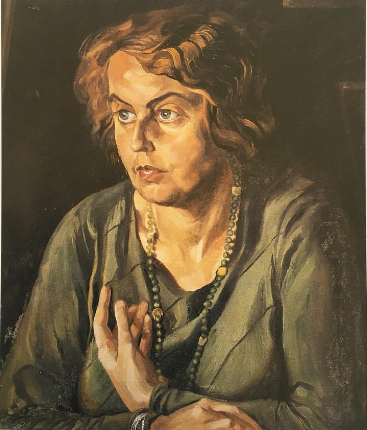 Lady in Green
after Hilda Carline Spencer's 'Portrait of Patricia Preece', 1933.
She must like butter, Hilda thinks,
for her skin has that buttercup glow
as if she's rolled all morning in a meadow
of wild flowers and is covered in pollen.
Hilda's palette is limited,
she doesn't like the muddy browns
of mistrust, but paints people as if light
were spread equally inside them,
as if it were possible to capture the soul
in its invisible perfection, as clear
as water, able to run into any shape.
But she knows how yellow turns to green
in the shadow and has to push away
the thought of what Patricia has
that she doesn't – her husband's longing,
a certain knack with necklaces and hats.
She mixes canal green for Patricia's blouse,
starts on the string of glass beads
Stanley probably bought.
If her canvas were a mirror, she thinks,
she might catch sight of her own tall soul
standing behind her,
watching over her shoulder,
solemnly wringing its hands.
---
A taste of what we missed…
…in March – Three poets from Cinnamon Press:
Heartbreak Hotel
You're cold and tired and grubby
and struggling to know how to be
when you check into the Heartbreak lobby
to pick up the Heartbreak key.
It's down on Lonely Street
inside a crowded quarter
your past is packed and folded neat
then handed to a porter.
The walls and carpets flash their logo,
sheets, and boxes of matches:
deeply its square tattoo
brands you with its H's.
Straight away you are healing
when that pillow marks your head,
so where there was that feeling
there's a corporate sign instead.
You broach the Heartbreak minibar
to chase away your distress,
peering through a glass of beer
at the Heartbreak trouser-press.
You check out but discover
it's a chain,
you thought you'd erased your lover,
but now you're checking in again:
the vistas diverge and climb
but you wear your brand on your sleeve,
where you can check out any time,
but you can never leave.
Ian Gregson
---
Heartbeat
Clutch and release, grasp, clinch and let-go
In a small part of this curving parcel of life,
Black and thorough in the frame of the machine
Needling an eye through the seamless pouring
Of love twined by two—I sing my first and my
Final song, a lyric I hear on a harp without strings.
All my nightmares have led to the dream of you;
All the lived, the viscid horrors, turn at the beauty
Of one who cannot be anything as yet, but true
As nightfall and sunrise, the light at its seam,
The bright corner where all things are enough, this choir
Of one violin, and a drum and a pea-small sound
Like the gabbling of gold from a golden halo. Half-
Moon, beloved nut—never was anything so round
As you, who walk down the leaf-strewn avenue of
The daft and singular cleverness of your mother
And I; the womb of your sturdiest ground, the bard
Quick to lose his tune, poor before the price of words.
Omar Sabbagh
---
Poem After Catullus
I live in luxury.
The water cooler vibrates cold.
Noodle-laced bowls
steam daily upon a table
I did not build. A bottle
of wine waits uncorked
whilst the clinic
obediently holds the line
as I consult
the colourful,
cascading blocks
of a digital calendar.
I live in luxury:
like a partially lit room
where anything could happen.
For a week I have lived
without poetry
and return to it now
with all the passion
of a lover begging
forgiveness finally.
So that one understands
not the misery of others
—none other understands—
but the luxury of the poem
inviting its way
into the daylight sun.
Where the word sunlight
matches the sunlight
upon the floor.
Where the word forgiveness
matches the forgiving
air of a partially lit room
where
any thing
could happen.
I am in the giving vein:
a choice among others,
having taken so much
from the world,
this world
I have not built.
Even the punctuation
has an impressed quality:
like moments of breathing.
And in that generosity
there has risen
a lungful of poetry.
And if we breathe,
carefully, may find
a heartful, a stomach even:
the strength of walking words
and the hips, thighs
and calves of the poem
whose kisses we have craved
not a hundred times
but a thousand more.
They may decry this poem
of poetry. They may.
Muddling the dissatisfaction
of a verse falling
from a ledge with any poem
of outward resemblance:
the surely remarkable
difference between suicide
and high climber.
But look to the last line
with its eyes staring like a tiger's
blinking calmly in the daylight sun.
Edward Ragg
---
… in May… but rescheduled for a zoom reading on November 12!
The Unseen Life of Trees.
for Esther and Jess
When the fraying skeins of silver birch
sway in the wind they think of
lulling water in the floating harbour,
the dried out plants on a deck,
the bespoke barge door cut to close
on a trapezium.
A sparse beech globe of yellow
holds an afternoon with two young friends,
who will walk through their vivid lives
beyond the end of mine.
A ball of mistletoe hangs
way up in spindle branches balancing
a trowel, a ginger cake,
and a framed copy of Jessop's 1802
'Design for Improving the Harbour of Bristol'.
Umber banks of oak climb the hillside
dragging children by the hand.
'There will be time,' they whisper,
canopy to canopy.
'There will be time, before
all our leaves stretch out across the frosted ground.'
Chrissie Gittins
The poem is from her new collection Sharp Hills (Indigo Dreams), available from the publisher and Amazon.
---
Keshite uchi wasurenai
I'd call you and you'd answer in grunts,
huh, uh, um,
and your step-father would despair
money wasted on French exchanges
our reward back home was huh, aw, gawn.
That was when landlines carried messages
but now on visits home you speak to colleagues
from a tiny phone in Japanese, Thai, Vietnamese,
And we have come to places to visit you.
We thought the door was closed on your past
but you left it ajar – on your bedroom walls
are photographs of haystacks, a farmhouse,
you in a rock pool with your brother,
the old oak that overlooks our house and
one of me with you, tiny, in my arms
taken with a polaroid and fading.
Keshite uchi wasurenai Japanese I'll never forget home
Wendy French
To be published in 'Bread Without Butter' from Rockingham Press later this year 2020.
---